SPORTS
UFC Owners Sales It All For $4 Billion Dollars | Not Bad For A $2 Million Investment
By
|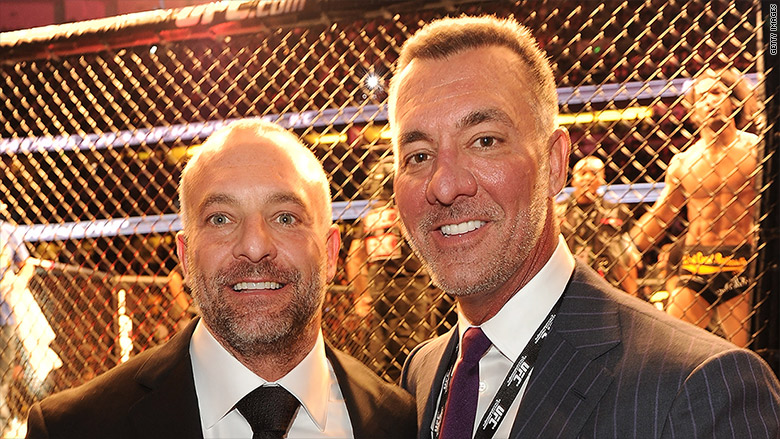 Casino operators Lorenzo and Frank Fertitta purchased the UFC for $2 million and then launched in 1993. Chairman and CEO Lorenzo Fertitta said it was nearly bankrupt and "literally going of business" at the time. The $4 billion sales price represents a 72% annual return, every year, on that modest original investment.
"We saw an opportunity," Lorenzo Fertitta told CNN's Rachel Crane late last year. "We felt like there was a void in contact sports. We felt…if we put in the right rules and regulations…we could create an opportunity for business."
UFC Letter Company Sale Letter To Fighters Gets Mixed Reactions
With the UFC officially being sold for a reported $4 billion, some serious explaining would have to be done to it's Octagon fighters.
This meant the fighters know what it all meant to them moving forward under completely different ownership.
One of their fighters, Joe Lauzon, shared the letter that he received from the UFC that detailed a little bit of what he and others like him received during all the chaos of the sale.
That makes it official. https://t.co/whBUODcXaP pic.twitter.com/C0liWVOpqD

— Joe Lauzon (@JoeLauzon) July 11, 2016
It reads…
Dear Athletes,

We are writing to personally advise you of a change to UFC. Renowned entertainment, sports and fashion giant WME-IMG has entered into an agreement to acquire UFC. Silver Lake Partners, KKR, MSD capital, L.P. and MSD Partners, L.P. will joing WME-IMG as new strategic investors. The transaction is subject to customary closing conditions.

From the moment Zuffa, LLC purchased UFC over 15 years ago, you, the athletes, have always been the central focus of the promotion. That will not change. WME-IMG, who has been involved with UFC for many years, is focused on the continued global expansion of mixed martial arts and committed to further promoting you on the global stage.

Upon closing of the deal, Lorenzo Fertitta will be stepping down as Chairman and CEO of the organization, however Lorenzo and Frank will retain a minority ownership interest in the business. UFC President Dana White will continue in his role and will also retain a minority ownership interest.

The organization's leadership, a team of great executives hand picked to help lead the business, will remain in place to carry on their work and continue to lead the team of dedicated employees who promote your careers as mixed martial arts athletes.

You remain a very important part of a highly driven, dedicated and motivated organization that will continue to deliver world-class experiences and opportunities for you as athletes and for the greatest fans in the world.

Thank you,
The Zuffa executive team
As one would expect, news of this magnitude was met with a wide range of reactions by fighters both in and outside of the octagon.
I am honoured to have fought under the Fertitta regime! To have been mentored by these great people on this great business is a true honour!

— Conor McGregor (@TheNotoriousMMA) July 11, 2016
Seeing UFC on WWE is crazy right now

— Wale (@Wale) July 12, 2016
Congrats @DanaWhite & @LorenzoFertitta nice investment.

— Tito Ortiz (@titoortiz) July 11, 2016
Deadly can't wait to see what % I'll get out of that 4 billion no more work for me going in to tell the boss to fuck himself

— Neil 2 Tap Seery (@NeilSeeryMMA) July 11, 2016
But check out Ex-owner Dana White's response
😃

— Dana White (@danawhite) July 11, 2016